Weekly Digest: Santa Rally, Gold a Safe-Haven in 2022
3 minuti di lettura
23 dic 2021
23/12/21: Gold goes up heading into Christmas, Powell declares inflation enemy No.1, Sotheby's makes $100 million in NFT sales. And more.
Investment news
🎅 Santa rally is creating short-term positive momentum for gold: the gold price edged higher on Thursday to $1,806.12 an ounce, supported by a weaker U.S. dollar and thin year-end trading. (Reuters)
Little trading activity in the market and Christmas buying are keeping the gold price above the $1,800 level, said Michael Langford, director at corporate advisory AirGuide, adding that these factors are creating a short-term positive momentum for the precious metal.
What Is a Santa Claus Rally?
A "Santa Claus rally" refers to an expected increase in stock market returns in the last week of December through the first two trading days in January.
Theories for its existence include increased holiday shopping, optimism sparked by the holiday spirit, and institutional investors going on vacation.
Tell me who your enemy is… To Fed chair Jerome Powell, it's inflation: "One of the two big threats to getting back to maximum employment is actually high inflation," he said during a press briefing, adding that the pandemic was the other. (Bloomberg)
Powell has FINALLY admitted earlier this month that the Fed got it wrong on inflation, saying that it was not transitory after all.
It has been a wild couple of days for Turkey's national currency: having traded as low as 18 to the U.S. dollar yesterday, on Tuesday it firmed to around 11 per dollar, staging the biggest daily rally since at least 1983. (Bloomberg)
The recovery follows a rescue plan announced by the government that promises protection from the currency's huge swings.
But the lira is so distrusted that more than half of savings in Turkey are in foreign currencies and gold, according to the central bank data.
Sotheby's, the almost 300-year-old auction house, reported $100 million in sales from its new NFT category, with bidders flocking to its virtual Decentraland gallery in search for Bored Ape Yacht Club and CryptoPunk collectibles. (Bloomberg)
The launch of Sotheby's NFT marketplace has attracted a wider audience this year, with 78% of NFT bidders being new to Sotheby's auction and more than 50% under 40 years of age, a year-in-review report showed.
Opinion
Gold and bitcoin can protect you against increased market volatility and rising inflation in 2022, analysts say. (Kitco)
"If there's a lot of volatility because inflation is out of control [and go into] the double digits then gold and Bitcoin are going to become safe assets […] And if the Fed decides that inflation is not an issue and they can accommodate longer, then all asset prices are going to go up," said Alex Mashinsky, CEO of Celsius Network.
But other experts believe bitcoin is set for a sharp decline in the coming months. Carol Alexander, professor of finance at Sussex University, said she expects bitcoin to fall to as low as $10,000 in 2022, virtually wiping out all of its gains in the past year and a half. (CNBC)
"If I were an investor now I would think about coming out of bitcoin soon because its price will probably crash next year," Alexander said.
Read our SPOTLIGHT to learn why digital currencies are so volatile and how you can protect your investment portfolio from crypto volatility.
What else is happening
Speaking of inflation… From Brazil to China to the U.S., traditional foods for the Christmas season are significantly more expensive now — if they're even available at all. (Bloomberg)
Prices have jumped for multiple reasons, such as bad weather hurting harvests, higher shipping rates, labor shortages, and strained supply chains, with fertilizer costs going up, too.
All this has resulted in the UN's gauge of food prices going up to record heights in 2021.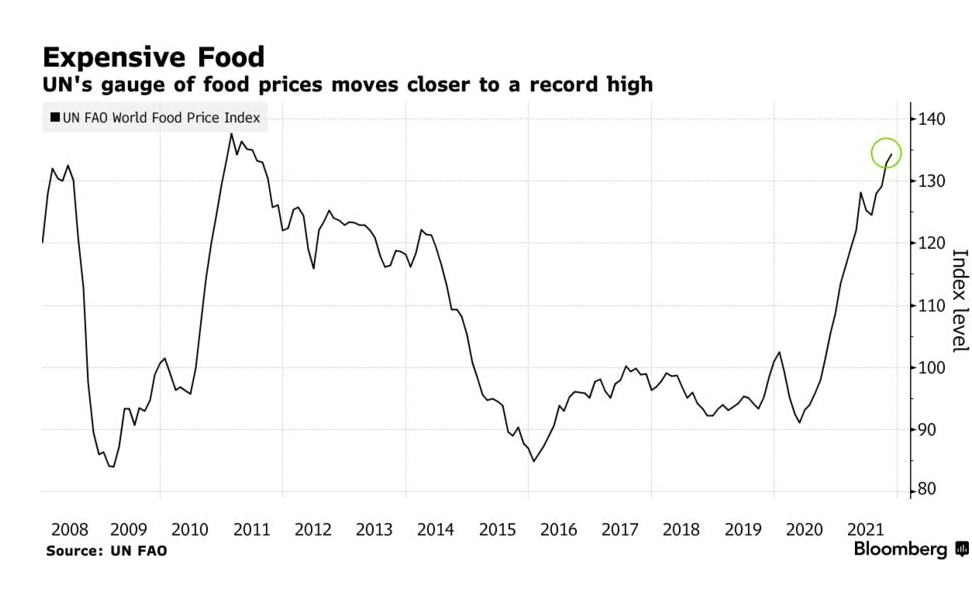 Omicron surge fears turn London into a ghost town. The U.K. is facing a record-breaking wave of Covid infections as almost 79,000 cases were reported on Wednesday alone. (Bloomberg)
The Omicron variant is spreading faster than the Delta variant and is causing infections in people already vaccinated or who have recovered from the COVID-19 disease, the WHO has warned on Monday. As many as 876,638 new infection cases were reported worldwide as of December 22.
And finally
🎄 Did you know that there's a country that celebrates Christmas for… 4 months?! (CNBC)
In the Philippines, Christmas is celebrated during the so-called "ber" months, that is, September, October, November, and December.
"Christmas is the longest celebrated season in the Philippines and our country celebrates it the longest globally. Can you imagine a whole nation willingly sharing warmth and love this long?," said Robert Blancaflor, president of the Manila-based events design company Robert Blancaflor Group.
Happy holidays 🎉 !