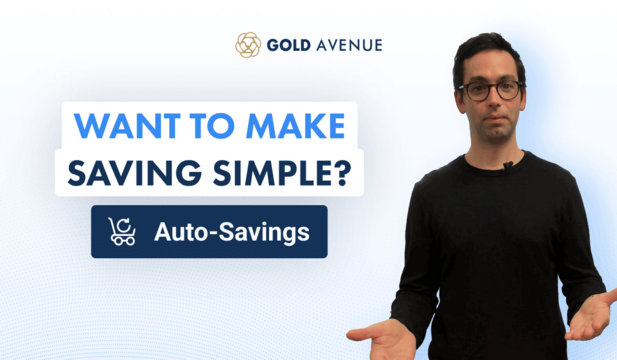 Auto-Savings: The Hassle-Free Way to Save in Precious Metals
3 minutes read
Apr 25, 2023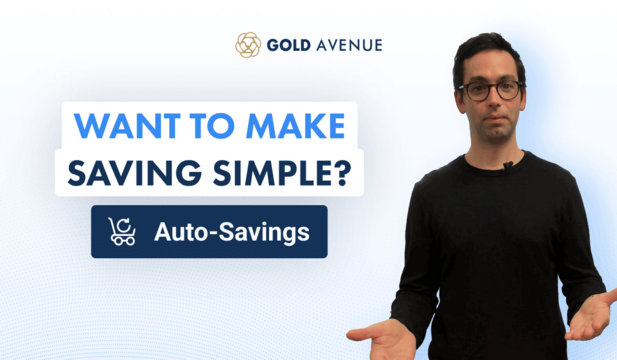 Introducing our new Auto-Savings feature that will allow you to simplify and automate your gold and silver savings.
With Auto-Savings, you can set up recurring automatic purchases in gold and silver to build your savings over time. In this article, we will explore the benefits of our new feature and explain how it works.
What are the benefits of using Auto-Savings?
Gold and precious metals can be a long-term safety net as physical assets that maintain their value and are not affected by inflation, unlike traditional bank savings accounts with low interest rates.
Here are five reasons why you should automate your savings with our new Auto-Savings feature:
Convenient without commitment: you can automate your savings with Auto-Savings while staying in control. Manage, pause, or cancel at any time, and resell instantly with 0% commission.
Reach your long term savings goals: setting up automatic and recurring gold and silver purchases is the best way to reach your long-term savings goals. Build your wealth at your own pace and adjust whenever you want.
The cost-averaging effect: cost-averaging is a hassle-free approach to building your gold and silver savings, as it allows you to purchase precious metals at regular intervals without having to worry about market prices. You can keep track of the live gold price on our charts page, or if you're interested, you can learn more about the cost-averaging strategy (DCA) by checking out our blog article.
Trust an industry leader: we offer a preselection of top-quality products for Auto-Savings, which are made in the MKS PAMP refinery and safely stored in our secure Swiss vaults.
Protect against inflation: consistent and automated gold and silver savings can help protect your wealth from inflation over the long run, balancing out riskier assets in your portfolio, like stocks and crypto, and protecting you from currency devaluation.
How to set your Auto-Savings plan?
Saving money is always a good idea, especially when you can do it with little effort and without any long-term commitment. That's where Auto-Savings comes in handy!
With Auto-Savings, you can easily set up recurring purchases of gold and silver and build your savings over time. Set up your Auto-Savings plan in 3 simple steps:
Step 1: Select a product and frequency. On our dedicated page, you'll find a preselection of our best products for Auto-Savings. Once you've chosen the product you want to invest in, you can select a frequency for your automatic purchases. You can choose to make purchases weekly, monthly, quarterly, twice-yearly, or yearly.
Step 2: Set a payment method. We offer a variety of payment methods, but we recommend setting up automatic recurring SEPA transfers from your bank to put your Auto-Savings on autopilot. This way, you won't have to worry about manually making payments every time your automatic purchase is due.
Step 3: Place your first order. Once you've chosen your product, selected a frequency, and set up your payment method, you're ready to make your first purchase. Simply finish placing your first order, and you're all set!
How to manage your Auto-Savings plan?
It's quite easy! One of the best things about our new feature is that you can manage, pause, or cancel it at any time directly from your account.
If you need to make changes to your frequency or payment method, you can do so with just a few clicks. If you need to take a break from your automatic purchases, you can pause your plan, and resume it when you're ready. And if you ever need to cancel your plan altogether, you can do so without any penalties or fees.
So why not give it a try and see how Auto-Savings can help you achieve your long-term savings goals?
To get more information and insights about Auto-Savings, follow our Head of Product's tutorial to streamline the process.