When you start building your gold savings, apart from the question of where should I buy physical gold, another important question will likely arise: where and how should I store my precious metals?
In fact, there are really only three ways you can store your gold: you can either keep it at home, use a bank's safe deposit box, or keep it in a secure vault.
Of course, each option has certain advantages and disadvantages that are important to know.
In this article, we will look at all of them in detail to help you decide which option works best for you.
Let's unpack.
Storing your gold at home
It's not a secret that ensuring secure and safe storage is one of the most important aspects of owning silver, gold and precious metals.
Some people prefer storing their gold at home, but there are several things you should keep in mind if your personal preference is home storage.
First, protection: you have to make sure your precious metals are stored in the right environment, away from damp and other corrosives.
The second thing to consider is insurance: whether or not you have adequate homeowner's insurance that covers jewelry or valuables.
Third, social awareness: the fewer people know you are in possession of precious metals, the better. Pay attention you don't reveal too much information to people you might not trust to avoid any issues.
So if you are tempted to post photos of you holding your gold bars on social media, think again, as it might attract unwanted attention.
Of course, home storage has some advantages that are especially important for people who prefer having their valuables easily accessible, and don't want to have any third parties involved. Here they are:
Advantages of home storage
Easy to access: when stored at home, your gold bars and coins remain within reach. If you think you might need them in an emergency situation, or if you just like to appreciate your collection, keeping easy access can be useful.
You only need to trust yourself: home storage means you don't need to rely on any third parties, be it a bank or a private company, to manage your precious metals.
However, before moving your gold home, you also need to consider its downsides, especially if you want to be able to sell your gold easily when the price goes up.
Disadvantages of home storage
Harder to sell: to sell home-stored precious metals, you will have to find a trusted physical gold store, and it's not always easy. First, brick-and-mortar gold stores have limited working hours. Second, before buying your gold, they will first have to test and estimate the value of your gold, which is quite time-consuming. Third, you might want to get several quotes before selling, as offers may vary. If you tend to react to sudden price movements, storing gold at home might not be the most practical option.
Easier to steal: you might need to take additional safety measures to make sure your gold is well-hidden and protected from the unwanted eyes of a burglar. That's why people who choose to store physical gold at home often invest in a secure safe and additional insurance.
Requires damage protection: home-stored precious metals will require certain precautions to take to keep them in good condition. With gold's malleability and silver's tendency to tarnish, you might need to invest in protective layers (tubes, cases, etc.) and other handling and cleaning material.
Risk of loss: there's a high possibility that you might not be able to find the precious metals you or your family members have once so skillfully hidden in your house. Be it a small, secret safe box that nobody knows about, or gold bars planted in a drywall that no one can locate.
To avoid all the hassle and potential risks that home storage might bring, some people turn to storing their precious metals with banks or private companies that provide safe deposit boxes and secure vaults.
Storing your gold in a safe deposit box
If you choose third-party storage, there are several things to consider.
First, security: make sure a partner you select is reputable and secure enough to protect your precious metals from theft, loss, and damage. Second, accessibility: make sure you can access your precious metals bars and coins at any time or withdraw them whenever you need. Third, ownership: make sure you keep guaranteed possession of your bullion.
People who choose this storage solution often directly rent a safe deposit box from their bank, as it is already an institution they trust with their money.
But as said above, while it can definitely provide security for your precious metals, it can also fall behind on accessibility and ownership.
Now, here are the main advantages and disadvantages of storing your precious metals in a safe deposit box:
Advantages of storing in a safe deposit box
Secured storage: banks are commonly considered a secure place, and the precious metals you store in their safe deposit boxes are usually well protected against theft, damage, or loss.
Relatively cheap: safe deposit box prices vary depending on where you live, but in most European countries, smaller-sized boxes can start from €100/year, while larger insured boxes will range closer to €500/year.
Disadvantages of storing in a safe deposit box
Limited access: bank hours are limited, as is your opportunity to get to it.
Here's an example of how that can impact access to your precious metals:
A huge price move happens on a Friday afternoon, and you want to sell your gold for profit. If you can't get out of work before your bank closes, you'll have to wait until your bank opens on Monday morning (sometimes Tuesday) to get your gold out and bring it to a dealer. That all takes time, and the opportunity to sell may be gone by then.
Risk of bankruptcy: we've learned from the 2008 crisis that even major banks are not protected against bankruptcy. And if your bank shuts down, so does your direct access to your precious metals.
Expensive insurance: banks usually don't insure the contents of safe deposit boxes. If you want to feel really comfortable and secure, you will have to buy separate insurance, which can be quite costly.
To avoid all these issues, you might want to consider the third way of storing your precious metals: a secure vault.
Storing in a secure vault
Unlike a safe deposit box, storing your gold in a secure vault often gives you the benefit of accessibility and direct ownership, in addition to high protection and insurance.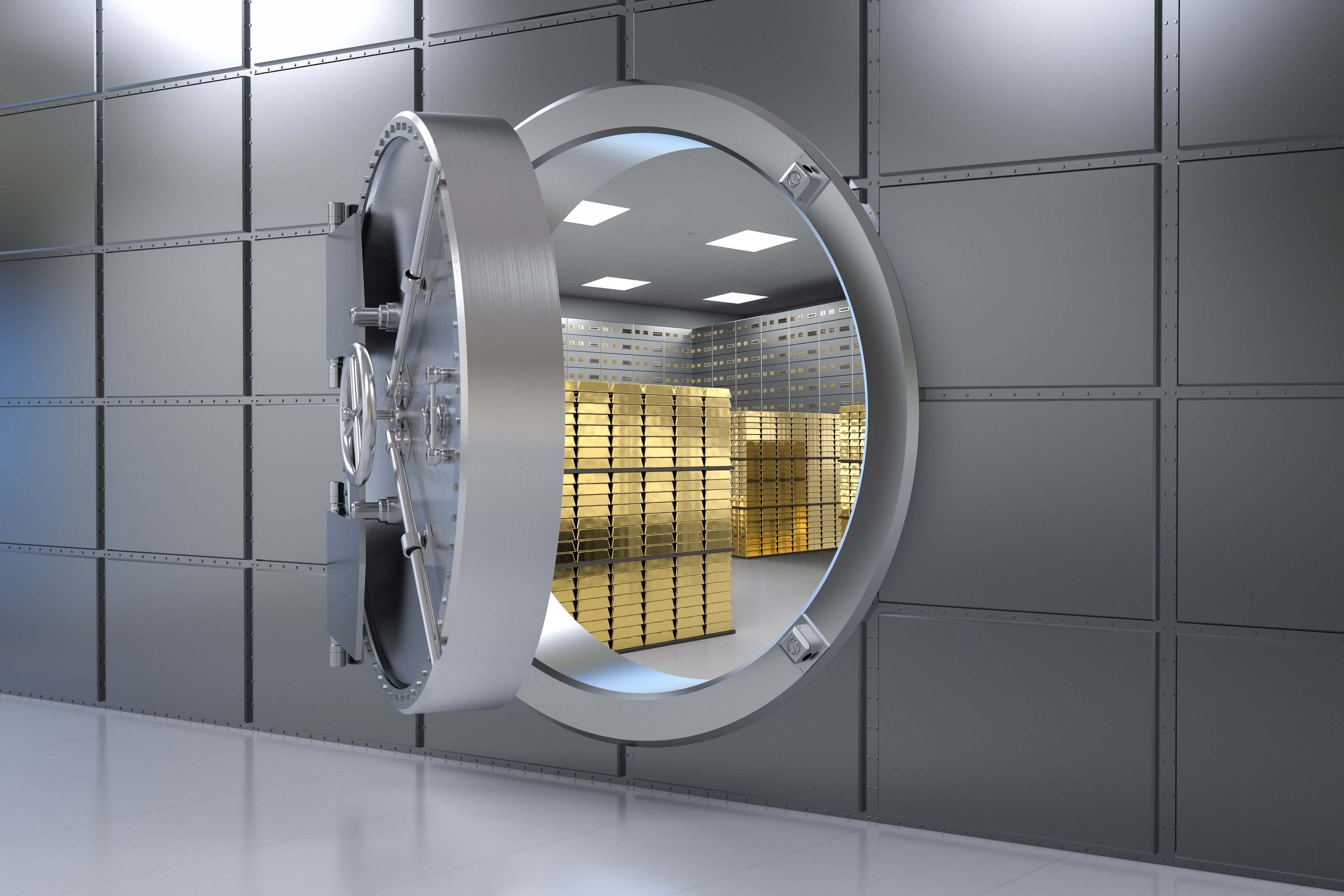 But, much like with the others, there are both advantages and disadvantages to consider if you choose this storage option:
Advantages of storing in a secure vault
Easy to resell: you can easily resell your precious metals 24/7 and have the proceeds wired the same day to your bank account anywhere in the world.
Fully secure and covered with insurance: you will benefit from secure, specialized bullion vaults that are fully insured and subject to regular, independent third-party audits.
Delivery at any time: your precious metals can be delivered or shipped to you overnight or in a few days, depending on where you are in the world.
However, keep in mind that some online gold stores might charge you extra fees on resale and have pricey storage offers that don't include insurance. At GOLD AVENUE, you can get free, insured storage, and instant resale with 0% commission.
Disadvantages of storing in a secure vault
No direct physical access: unlike home storage, storing in vaults doesn't give you direct access to your precious metals. That's because you're not allowed to enter the vaults for obvious security and safety reasons. However, you can easily ask to have your products delivered to you whenever you want.
Shared gold: some gold resellers will also sell "shared" or "mutualized" gold, which means that, instead of being the sole owner of a gold bar, you will have to share a larger bar with other customers. When buying gold on GOLD AVENUE, you will own 100% of the metal.
What's the bottom line
Choosing the best place to store precious metals fully depends on your individual needs.
If you want to always keep them within reach and have less trust in banks and other third parties, home storage might be a good option. But keep in mind that you will have to spend extra money and effort on insurance and protective equipment, and might have some difficulties when trying to resell your precious metals.
That's why you might want to consider third-party storage, a.k.a safe deposit boxes and secured vaults. While safe deposit boxes are good for their safety and are relatively cheap, secured vaults give you the benefit of fully insured storage, easy access, and full ownership.
But, at the end, the choice is yours to make, so make a good one. 🙂