Bitcoin, stocks, gold: What is the best investment today?
10 minutes read
Jun 28, 2022
While stocks and bitcoin went down sharply due to rising inflation and uncertain economic outlook, gold has retained its value, exactly when investors and savers needed it.
In the broader recent picture, there really haven't been many bright spots for the stock market and cryptocurrencies, which have fallen in value quite sharply.
As they say, markets frequently take the elevator down and the stairs up, and we are currently in the elevator.
In 2022, on the other hand, gold has retained its value and is now up in every currency in the world.
In this article we explain:
How far will the stock market fall?
Will bitcoin drop further in 2022?
Why did gold retain its value, while stocks and bitcoin are down?
How far will the stock market fall?
The stock market has been battered ever since the beginning of the year due to surging inflation and a more than uncertain economic outlook.
The S&P 500 had its worst January since 2009 with a decline of 3.6%, plunging nearly 4% earlier in June to close in a bear market, setting a new low for the year.
And with recession fears growing and inflation at its highest level in 40 years, many investors are worried that the stock market may crash:
The 3 biggest stock market crashes in recent history
2020: The COVID-19 crash. Many investors still remember the latest crash caused by the Covid-19 pandemic. Back then, the stock market fell 34% but regained its peak quite fast, in just 33 days.
2008: The Subprime Mortgage Crisis. This one was brought on by a sharp drop in U.S. home prices following the burst of a housing bubble. The S&P 500 dropped nearly 57%, taking about 17 months to recover.
2000: The Dotcom Bubble. It was caused by major overvaluation of tech companies in the late 1990s. As a result, the tech-heavy Nasdaq lost nearly 77% of its value and wouldn't recover for almost 15 years.
Jack Ablin, founding partner of Cresset Capital gave a good summary of the recent situation in the stock market:
"Anyone who wants to be bullish can't find anything to hang their hat on. There's nothing out there right now with valuations under question, with interest rates rising, the direction of the economy uncertain."
What does it mean for investors?
In short, it could mean losses.
It's a little obvious but sometimes bear repeating: when the market goes down, the more you are invested in the stock market, the more the total value of your investment goes down, too.
Here's an example:
Let's say you invested $10,000 total to buy 50 shares of a fund trading at $200 per share. Then imagine that the total market dropped by 15%. Each share you owned would fall in value to $170, and your overall investment would decrease to $8,500.
Will bitcoin drop further in 2022?
And if the stock market is frowning right now, things don't look good in the crypto market, either.
Investors have even been speculating about the possibility of a crypto winter❄️, which is a nickname for when crypto prices fall and remain low for an extended period of time.
The bitcoin price has slid down, from almost $49,000 in March to under $21,000 now. And Ethereum, the second-largest cryptocurrency by market cap, has followed a similar path.
And if the economy doesn't improve, some experts believe that the value of bitcoin and Ethereum may drop even more.
For example, according to Ian Harnett, co-founder and chief investment officer of Absolute Strategy Research, bitcoin could drop to as low as $13,000.
Read out SPOTLIGHT to learn why cryptocurrencies are so volatile.
What does it mean for investors?
If your portfolio has digital currency and stocks, it probably means diversification.
As Melissa Bouchillon, a CFP and managing partner at Sound View Wealth Advisors, puts it:
💡"You never know what the next big crash is, whether it's COVID-19, or the Great Recession, or what we're going through today. You have to always have a component of your portfolio prepared for when things get bad."
And this is where gold comes in handy.
Gold remains a safe haven amid bitcoin and stock market turmoil in 2022
The graph below shows how gold has performed better than almost all other investments this year, including stocks and bitcoin, demonstrating its value as a hedge against both market volatility and rising consumer prices: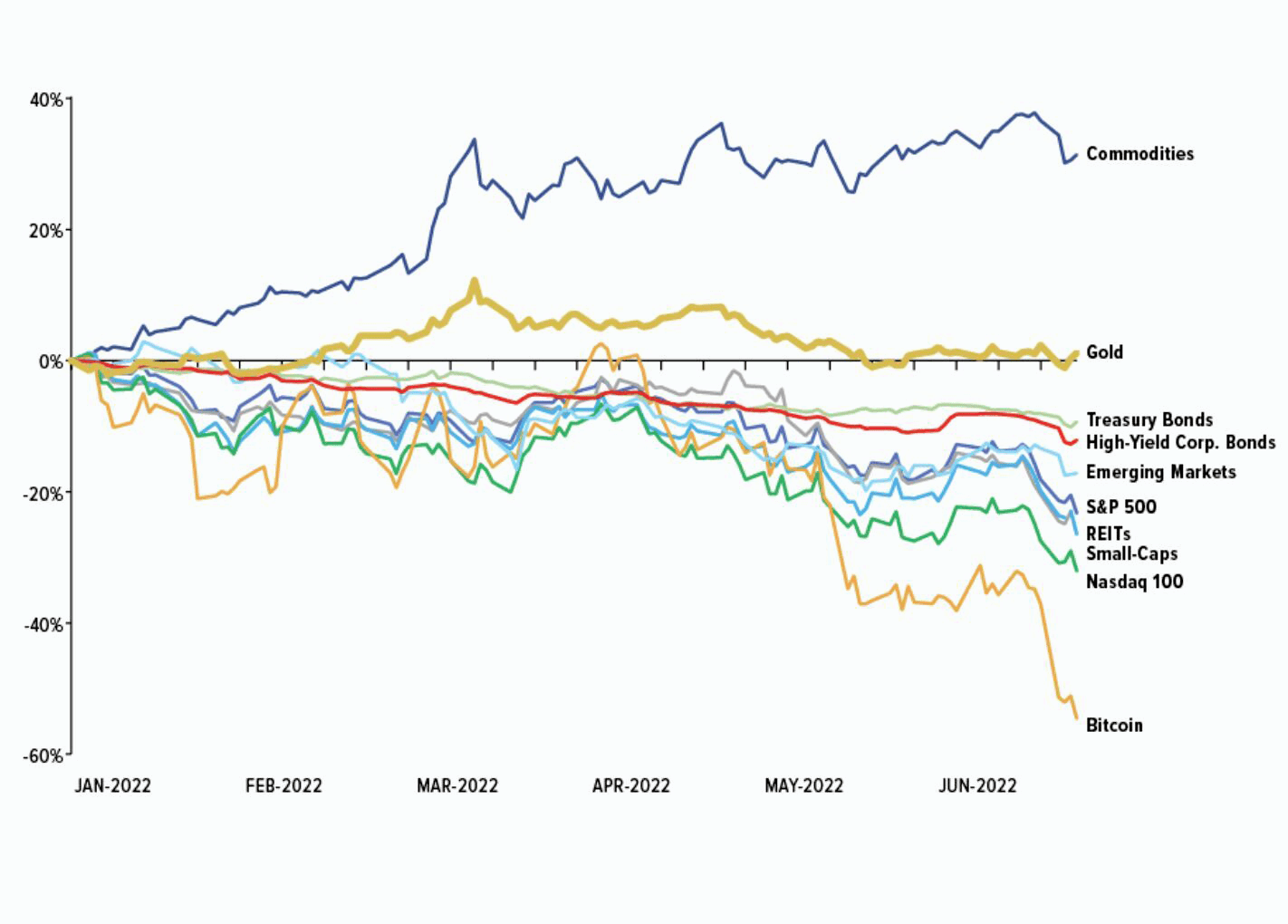 As we can see, in 2022, apart from commodities which have seen their price rise due to inflation, ongoing supply chain issues, and the war in Ukraine, only gold has managed to keep its value. All other major investment assets have been dropping at a concerning rate.
If you needed one, that's an almost perfect example of what we mean when we say that gold can be used as an "inflation hedge" and a "safe haven" to protect your wealth in times of economic crisis. 😉
Why did gold retain its value, while stocks and bitcoin are down?
One of the main reasons why stocks and bitcoin are falling is because of high inflation and the uncertain economic outlook, both of which are affecting investor sentiment.
Gold, on the other hand, has once again withstood the declines in the financial markets.
Although its price has dropped from its peak in mid-March, a mix of geopolitical unrest, decades-high inflation, and growing recession has worked in favor of the precious metal.
The point is, gold and inflation usually go hand in hand. While inflation makes us all poorer, gold can easily keep up with it as a tried-and-true hedge against inflation which protects our purchasing power and wealth in the long term.
Moreover, top bankers are now predicting fresh financial shocks, meaning that the situation is ripe for stagflation, which is usually good for gold, but not so good for stocks and other riskier investments.
Take a look at this chart:
As you can see, stagflation may have a negative effect on the stock market and may result in a decline in the value of some riskier assets.
But rising inflation has historically been good for the prices of precious metals like gold and silver, frequently pushing them up.
What does it mean for investors?
One thing, really: think about holding gold as part of your investments.
As Naguib Sawiris, Egyptian billionaire and chairman of Orascom Investment Holding, says:
💡"Gold has gone down in the past few weeks, but the funny part is, if you calculate the drop of gold vs. drop of equities or bitcoin, then you see that gold is heavier. You can hold it in your hand, it has its value. So it's still a very good safe haven, compared to everything that's happening right now: bitcoin went down 60%, equities went down 30%-40%, while gold went down maybe 10%."
In other words, for those looking to protect their wealth over the long term, gold offers a safe haven because it just always seems better at retaining its value, no matter what.
That's why now may be a good moment to add some gold to your portfolio, especially if it includes riskier investments like stocks and cryptocurrencies.
If you want to buy gold but don't know where to start, here are the 4 handy tips you can immediately put into practice when buying physical gold for the first time.