Is Gold a Good Investment for 2022?
10 minutes read
Feb 15, 2022
With inflation raging around the world, physical gold is a must-have in your portfolio. If you're still wondering if the king of metals is a good investment in 2022, here's what you need to know.
Gold is now back above its key psychological bullish mark of $1,800 which reinforces its role as a hedge against inflation.
But the prospect of interest rates rising and continuing geopolitical tensions are looming over the future moves of the gold price.
So what exactly is the outlook for the gold price and could the precious metal create new opportunities for investors in 2022?
Let's unpack that!
Why the gold price didn't rally in 2021?
With some of the key drivers of the gold price in place, it almost looks like a mystery why gold didn't rally hard in 2021.

Do you know the four main drivers of the gold price
Currencies (especially the US dollar): a weaker US dollar will most likely push the gold price higher, and vice-versa.
Market uncertainty and inflation: gold often moves higher when economic conditions worsen and inflation concerns increase.
Capital flows and price momentum: investors moving their capital in or out of gold can move the gold price and create momentum in the market.
Internal gold market dynamics: these include central bank buying, mine production, and seasonal consumption.
At least three of these main drivers for gold seemed to be present last year:
Uncomfortably hot inflation: over the past year, inflation was all over the news (and probably in the Fed's biggest nightmares), as it hit a 40-year high in the U.S. and a 13-year high in Europe.
Central bank buying: central banks definitely❤️gold this year. According to the World Gold Council, central bank buying rose by an impressive 82% in 2021, with Thailand coming up as the biggest buyer (it bought as many as 90 tons of gold).
Massive money printing: this driver is not usually cited among the main driving forces for the gold price, but it's in fact very important, especially with today's economic uncertainty. Last year, central banks printed money at a record pace to prop up their economies hit by the COVID-19 pandemic. As a result, this has considerably weakened the purchasing power of paper money.
And when paper currencies start losing their purchasing power, investors usually look for alternative stores of value to protect their wealth, turning to assets like physical gold which has maintained its value throughout centuries.
🤔Then, why there was no big rally in the gold price this year?
Most analysts give three main reasons:
The "big lie" of the Fed: for most of 2021, investors seemed to believe the Fed's long-time favorite "transitory" inflation mantra. Right until Fed chair Jerome Powell finally admitted inflation was a real threat, one too dangerous to be ignored any longer. So, in other words, the gold price didn't react to higher inflation as much as some might have expected simply because the majority of investors actually believed inflation was going to fade away.
But look at the charts below:
They show consumer price inflation in the Eurozone and the U.S. starting from 2019, with a steep spike in prices in 2021.
So instead of being a temporary issue, inflation has become a worldwide phenomenon, and for now, it looks like it is not going to end soon.
The big crypto dream: some analysts say bitcoin and other cryptocurrencies held the attention of many investors, including physical precious metals buyers, distracting them from multiple short-term gold rallies throughout the year.
(Read our SPOTLIGHT to learn everything you need to know about crypto volatility, and gold and bitcoin acting as supplementary investments).
The "big bet" on stocks: it's the same story here: many investors joined the rush of buying high-flying stocks like Apple and Tesla, two of the last year's best performers. But according to a December report from Goldman Sachs, Apple and Tesla stocks are not expected to do well in 2022.
And in general, the stock market is off for a choppy year, with geopolitical worries, inflation, and interest rates already spurring some wild swings on Wall Street.
So will persistent inflation and stock market pullbacks support the gold price in 2022?
The World Gold Council thinks so.
In it's Gold Outlook 2022, it says: "Elevated inflation and market pullbacks will likely sustain demand for gold as a hedge. Jewelry and central bank gold demand may provide additional longer-term support."
So should you buy gold in 2022?
Well, we can't say for sure because everything depends on your investment strategy and personal needs and goals.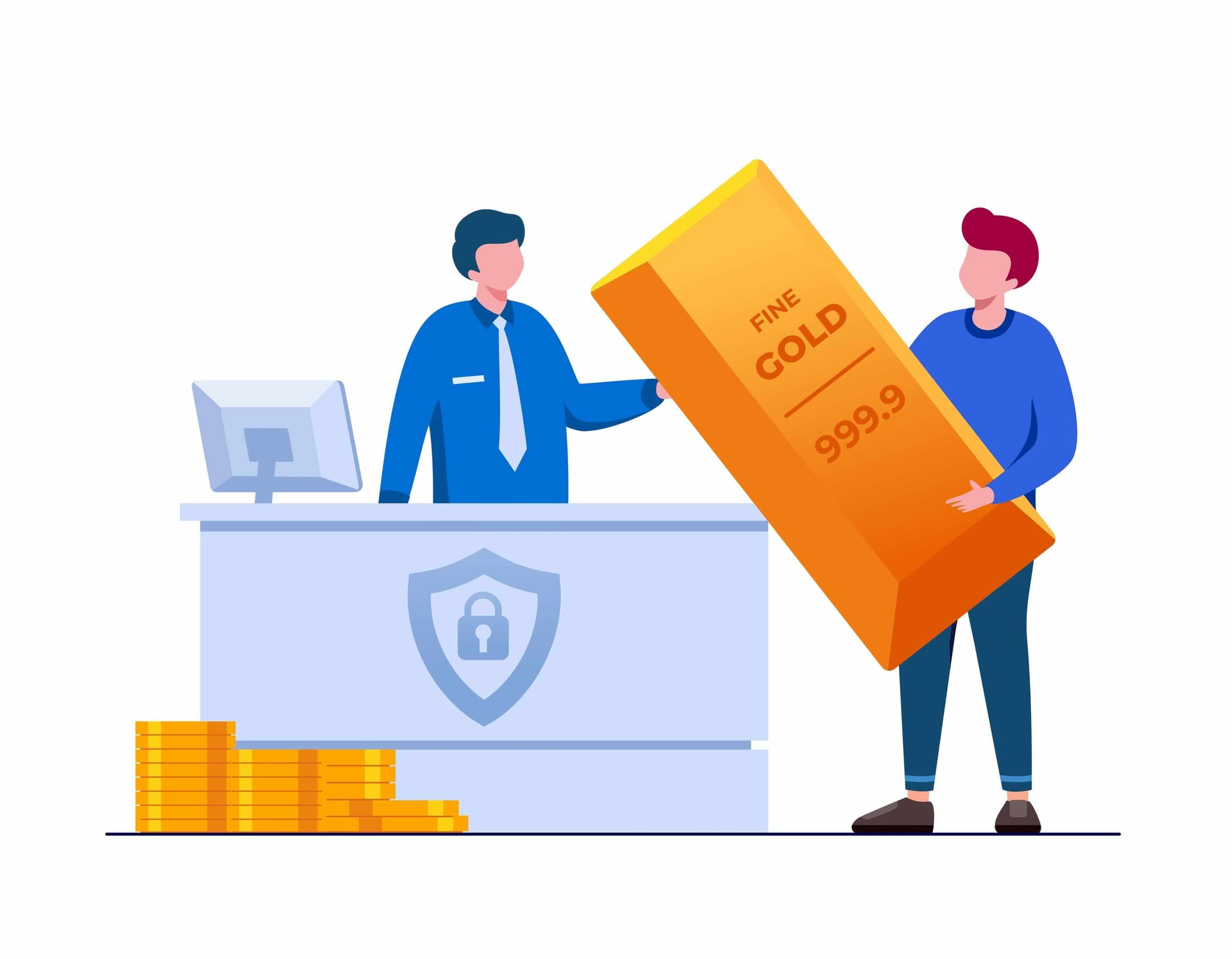 But as a rule of thumb, wealth managers usually recommended to keep up to 10% of your investment portfolio in gold to protect yourself against possible economic downturns, including stock market crises and the devaluation of most currencies that we see happening today.
Where do top market experts see the gold price in 2022?
In general, analysts are bullish for gold in 2022. Let's see what they have to say.
Investment management company Blackstone Inc.
The gold price could surge 20% as the precious metal will keep its inflation hedge status, according to Byron Wien, vice chairman of Blackstone's private wealth solutions business, and chief investment strategist Joe Zidle.
"The price of gold rallies by 20% to a new record high. Despite strong growth in the U.S., investors seek the perceived safety and inflation hedge of gold amidst rising prices and volatility. Gold reclaims its title as a haven for newly minted billionaires, even as cryptocurrencies continue to gain market share," Wien and Zidle said in a note.
Equity research and funds management company Fat Prophets
A similar positive outlook for gold came from fund management company Fat Prophets, which said gold could reach new highs of $2,100 an ounce this year:
"We do believe that high momentum in inflation and that lower U.S. dollar is going to drive the gold price higher in 2022."
Nicky Shiels, Head of Metals Strategy at MKS PAMP GROUP
Nicky sees the average gold price in 2022 at $1,800, with the highest estimate set at $1,965, but says that the price "could become unstuck as 3 important drivers for Gold - inflation, the Fed, and expected equity volatility - are on the move this year."
"Gold has one more peak higher as the 'inflation' or "Fed policy mistake" peak is not yet in. A short US labor market, future COVID variants and associated zero/low COVID policies create necessary persistent stagflationary forces," Nicky wrote in her 2022 outlook for precious metals.
In other words, gold could still price in on higher inflation or a policy mistake by the Fed, such as the failure to tame surging prices, for example.
👉You can find the full precious metals outlook 2022 by Nicky Shiels here.
Multinational investment bank Goldman Sachs
And finally, Goldman Sachs gives a final answer to the main question of this article: Is gold a good investment for 2022?
"For investors looking for a way to hedge their portfolios from risks of a growth-slowdown and falling valuations, we believe a long gold position would be more effective in the current macro environment."
It's now up to you to make your choice, but it's always better to be prepared than sorry. 🙃