💡Quote of the Week
"Unfortunately, and precisely because the [U.S. debt] deal is so thin, the country's long-term fiscal outlook remains dire. When the details are nailed down, public debt will still be projected to keep rising to historically unprecedented levels as a proportion of the gross domestic product. This trajectory is unsustainable." - Bloomberg Opinion
Investment news
🇺🇸 U.S. avoids historic default. The U.S. Senate on Thursday passed bipartisan bill backed by President Joe Biden that lifts the government's $31.4 trillion debt ceiling, preventing what would have been a first-ever default. (Reuters)
In a 63-36 vote, the Senate approved the legislation passed Wednesday by the House of Representatives after months of partisan bickering between Democrats and Republicans.
🏦 Fed may skip June rate hike. Patrick Harker, President of the Federal Reserve Bank of Philadelphia, said the US central bank is nearing the stage where it can cease raising interest rates and instead maintain them at a steady level. (Bloomberg)
"I do believe that we are close to the point where we can hold rates in place and let monetary policy do its work to bring inflation back to the target in a timely manner," Harker said.
⭐ Gold rises. The gold price climbed on Friday for the biggest weekly gain in almost two months, helped by a softer U.S. dollar and hopes that the Fed will pause its tightening campaign.
Gold spot prices were little changed at $1,977.31, while U.S. gold futures were steady at $1,994.50. Bullion has gained 1.6% so far this week, heading for its best week since April.
🇪🇺 European stock rally. After Wall Street's gains, European stocks climbed on Friday, following the U.S. Senate's passage of legislation to suspend the nation's debt ceiling. (Bloomberg)
Stoxx Europe 600 was up 0.6% by 8:09 a.m. in London. In a risk-on rally, mining shares outperformed healthcare stocks.
💼 Investors dumping value funds. U.S. equity smart-beta exchange-traded funds saw record outflows in May, with investors shoveling money into AI bets. (Bloomberg)
Despite US-listed equity exchange-traded funds (ETFs) gaining $12.5 billion in assets in the previous month, smart-beta ETFs, which typically focus on specific stock traits like growth or momentum, experienced net outflows in May, according to monthly data compiled by Bloomberg Intelligence since 2016. Much of the dip can be attributed to a decrease in assets within value funds, which faced outflows of nearly $6 billion.
🤖 Job cuts from AI are just the beginning. Planned layoffs spiked to around 417,500 jobs in May, surpassing last year's figures by over fourfold, according to a fresh report. Interestingly, Challenger, Gray & Christmas Inc., the report's publisher, based in Illinois, introduced a new category called "Artificial Intelligence" for the first time, saying that nearly 4000 people lost their jobs in May due to AI. (Bloomberg)
"Generative AI is expected to become a monster employment generator because of estimates of a mushrooming $1.3 trillion AI market that will boost sales and ad spending for the tech industry," says Ben Emons of Newedge Wealth LLC. But, "AI can also destroy employment by extinguishing 300million jobs by 2035, while there is scope for big productivity gains according to [a Goldman Sachs] analysis," the report says.
📸 Image of the week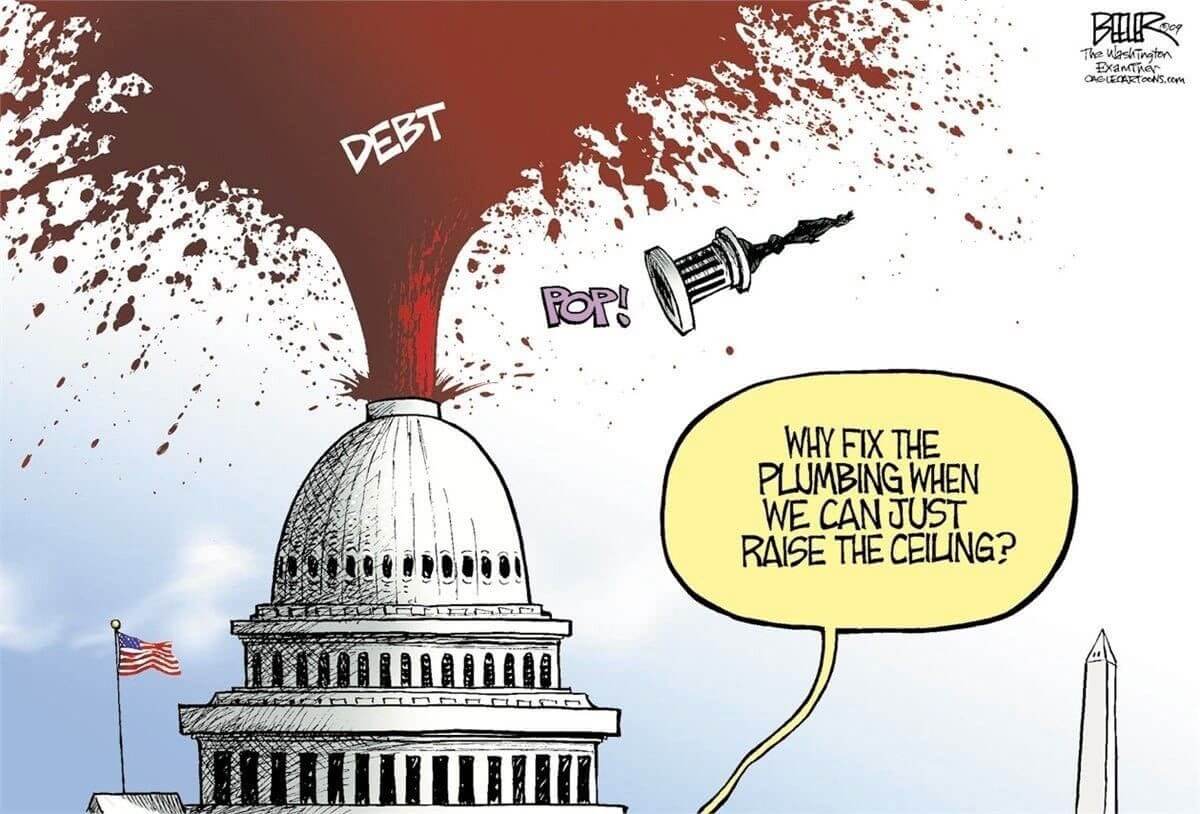 Opinion
💵 Mighty dollar. "The de-dollarization project is counting on blockchain technology to end the greenback's hegemony. The hope may be misplaced." (Bloomberg Opinion)
"When it comes to carrying value across illiquid currency corridors, the dollar is a sturdy mule. That's a big part of the reason it ends up on one side of the trade in nearly 90% of foreign-exchange trades," Bloomberg's Andy Mukherjee writes.
What else is happening
🇿🇦 South Africa in tight spot. During talks in South Africa on Thursday, the foreign ministers of BRICS reaffirmed their bloc's aspiration to compete with Western powers. However, the discussions were marred by concerns over the potential arrest of Russia's president should he participate in an upcoming BRICS summit in August. (Reuters)
South Africa's foreign minister, Naledi Pandor, mentioned that her country was considering its choices if Vladimir Putin, who is the target of an arrest warrant issued by the International Criminal Court (ICC) for war crimes, were to attend the planned BRICS summit in Johannesburg in August. As a member of the ICC, South Africa would theoretically be obligated to arrest Putin.
"The answer is the president (Cyril Ramaphosa) will indicate what the final position of South Africa is. As matters stand an invitation has been issued to all (BRICS) heads of state," Pandor said.
⚔️ U.S. retaliates following Russia's suspension of the nuclear deal. In response to Moscow's "ongoing violations" of the New START arms control treaty, the United States will stop giving Russia some data required under the treaty, including updates on missile and launcher locations. (Reuters)
"Beginning June 1, 2023, the United States is withholding from Russia notifications required under the treaty, including updates on the status or location of treaty-accountable items such as missiles and launchers," the State Department factsheet said.
And finally…
👽 Messages to outer space. Scientists have broadened their quest for technologically advanced extraterrestrial civilizations by observing a densely populated area of stars in the core of our galaxy. They are specifically searching for a signal type that could potentially be generated by intelligent aliens, a signal that has previously been overlooked. (Reuters)
"The signals searched in our work would belong to the category of deliberate 'we are here' type beacons from alien worlds," said Akshay Suresh, a lead author of a scientific paper published in the Astronomical Journal describing the new effort.
See you next week!