For many of us, celebrations and exchanging gifts wouldn't be complete without a spark of gold.
From the golden glow of lights and shiny ornaments to a special symbolic meaning, gold has been at the heart of many festive customs.
And, of course, Christmas. 🎄
Gold coins, Santa, and Christmas stockings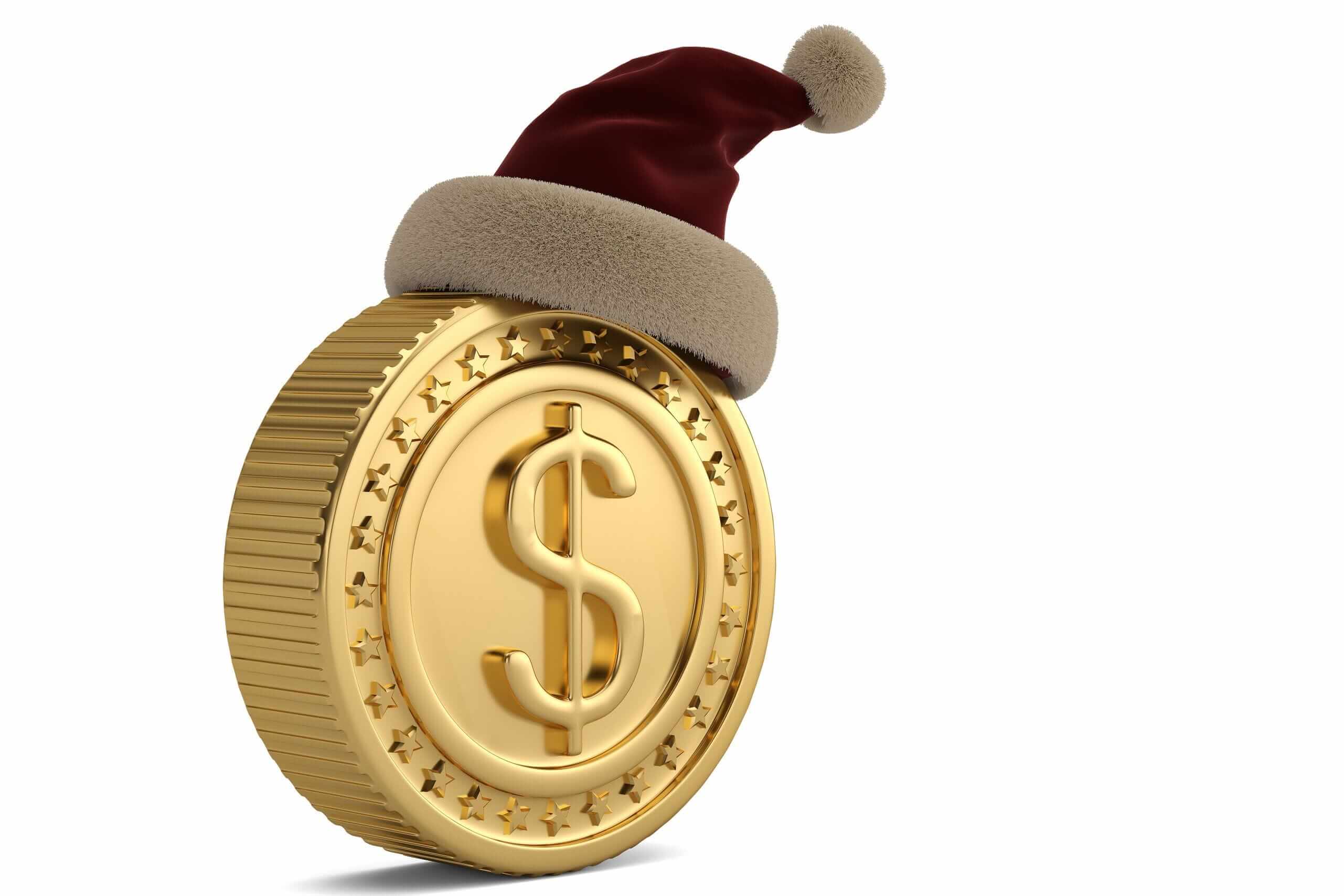 Gold has always had an air of mystery and magic about it, and it is no surprise that it has come to symbolize all that is special about Christmas.
In the original Nativity story, the Three Wise Men bring frankincense, myrrh, and gifts of gold to baby Jesus, symbolizing his kingship that "shall not be destroyed."
Even the tradition of hanging Christmas stockings is said to have started with real gold coins and a story involving Christian bishop Saint Nicholas, a.k.a. Santa Claus.🎅
Legend has it that Saint Nicholas was secretly leaving gold coins for those in need. One night, he gave three poor sisters gold coins by dropping them down the chimney. One of the coins went into a pair of shoes, while the other one landed in the stockings that were drying by the fire.
No wonder everyone now leaves their stockings out on Christmas in hopes Saint Nicholas fills them with gold coins!
A gold present to start your (grand) children's savings
The tradition of giving gold as a gift is still very common in many cultures, not only as a precious keepsake but also as a form of savings and investment that will never lose its value.
Regardless of the occasion, gold bars and coins can be an original and valuable gift for both adults and children, especially if you want to draw their attention to personal finance and savings at an early age.🙂
For example, French families have a long tradition of gifting Napoleon or Louis d'or coins, while Swiss children get a gold Vreneli for their birthday, first communion, or confirmation.
The end-of-year celebrations such as Christmas, Hanukkah, or the New Year are often symbolic and joyful family moments, which is why it is quite common in most European countries to use the occasion to offer a gold gift to pass on wealth to the next generations.
While coins still remain the number one choice, giving a gold bar as a gift while keeping to one's budget is also possible with smaller gold bars such as the 1 g gold bar, the 5 g gold bar, or even the 1 oz gold bar from the beautiful Lady Fortuna range.
Gold gift as a symbol of love, wealth, and prosperity
Very often, gold is given as a symbolic gift with a deeper meaning. The precious metal is a central part of Diwali, the Indian festival of lights. It is closely associated with Lakshmi, the Hindu goddess of fortune and prosperity, which is synonymous with gold.
That's why traditional Diwali gifts include gold jewelry, coins, and bars, which are believed to make the recipient's new year more prosperous and successful.
Another great tradition of symbolic gold gifts is to celebrate the Lunar New Year. While often nicknamed Chinese New Year, the occasion is also celebrated in Korea (Seollal), Vietnam (Tet), Tibet (Losar), and Mongolia (Tsagaan Sar), amongst others.
It is a period of family reunion and gift-giving, with gifts wrapped in red, yellow, and gold to symbolize wealth and prosperity.
The tradition of gifting gold during Chinese New Year is a longstanding one and is also seen as a way to bestow good fortune on family and loved ones. Gold gifts often represent the year's Lunar animal, as each Lunar New Year is associated with one of the 13 zodiac signs….
…and in 2023 will begin the Year of the Rabbit!
Amongst the most popular Lunar New Year gold presents are PAMP's Lunar Calendar gold bars. Due to their unique design, symbolic meaning, and collectible value, these ingots are often gifted as a long-term investment and a treasured keepsake, and this year's beautiful Year of the Rabbit gold bar is no exception!
💡Did you know?
The Lady Fortuna range, produced by MKS PAMP, is one of the world's most famous minted gold bars.
This legendary bullion design, created in 1979, was the first artistic design ever to decorate a precious metal bar.
A 1 ounce Lady Fortuna gold bar is the perfect size to put in a Christmas stocking as a special gift to your loved ones.
What to remember when choosing a gold gift?
Contrary to what many believe, buying gold bars as a gift does not necessarily mean a big investment.
Gold bars come in different shapes and weights, including 1 g, 5 g, 10 g, 20 g, 50 g, 100 g, and 250 g, which results in different prices.
💡Did you know?
A gold bar's primary advantage over coins is its lower cost per gram.
Since gold bars are usually cheaper to produce and design than coins, larger gold bars often offer a good opportunity to buy more gold at a lower price.
Learn more here: How Do You Buy Gold? A beginner's guide.
The second thing to pay attention to when choosing your gold gift is purity. For example, if you want to gift an investment-grade gold bar, its purity must be equal to or greater than 995 thousandths (meaning 99,5% of pure gold).
💡Read our Spotlight to learn what gold purity is and the key things you should pay attention to when buying your gold bars and coins.
And make sure you keep the invoices as well as the certificates of authenticity and ownership that come with your gold products. At the end of the day, you're getting a timeless gift that can be passed down through generations and help secure your family's financial future.
We hope Santa will fill your Christmas stocking with gold coins this year! 😉